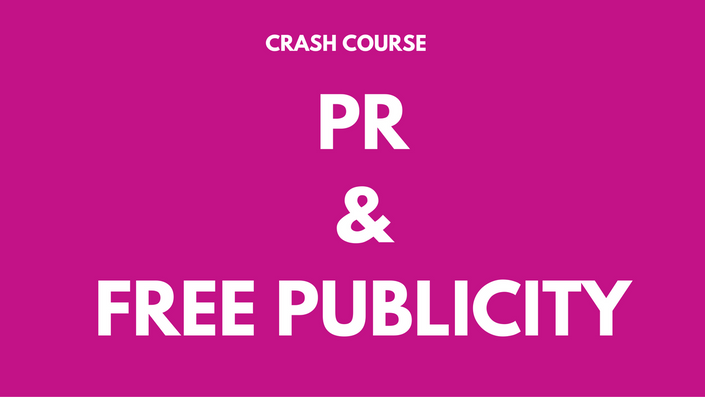 Crash Course: PR & Free Publicity
Get started today with your free publicity strategy in this ≠60 minute video crash course.
A STRATEGY DOESN'T WORK
IF PEOPLE DON'T KNOW YOU EXIST.

CREATE OPPORTUNITIES
WITH EXPOSURE... FOR FREE!

Hey you,
ready for more sales, more press features, more traffic and less hustle?
Do you want to learn something you can repeat over and over again to help grow your biz or blog?
YOU...
Struggle with reaching new audiences
Struggle with growing your business and tribe (without expensive marketing tools)
Hustle hard for every sale you make
Don't feel like the niche leader
Never receive requests for features or interviews
Want to take your business to the next level, a more professional and respected level
You have problems with growing your business and brand in an organically way
THE PERFECT SOLUTION:
The answer to grow your business and brand organically, to become the authority in your niche for free?
What if.. you could make more sales or reach more people with less effort?
That's what free publicity can do. Make one connection and reach thousands of potential followers, clients or buyers. Stop cold calling - e-mailing and hustling for every single follower and customer. Stop working so hard on your projects that it leaves not enough time to book more clients or find new customers. Enjoy the extra hours you'll have in the day to do what you really love: creating and working on your core biz? Or will you enjoy the free hours doing what you really love - spending time with your family/friends or traveling?

Enroll now in the Crash Course PR & Free Publicity to get started with free publicity today. You'll learn:
Course Curriculum
Crash Course: PR & Free Publicity
Available in days
days after you enroll

Your life before taking this crash course:
You're still waiting for your big breakthrough.

You barely ever receive requests for interviews, questions, internships or other interesting opportunities in your inbox.

You feel like you've maximized your ability to promote and attract new clients and followers.

You're in desperate need of organizing the whole press process, your contacts and information (for free..!)

You feel like never really moving forward with your business. You might have enough customers or clients, but you're ready for the next level. More fans, followers and income.

You are tired of sending out hundreds of cold pitches every month to find new clients.

You feel like a fakepreneur; you have a few clients or customers, but are afraid to really tell people you are an entrepreneur or full-time blogger because you honestly don't feel like one.

You feel like a fakepreneur: you work hard, 24/7 but don't make any or enough money. You did not make any money the past few months... you need to refocus!

You're wondering how to spend zero on marketing and make the best out of free publicity.

You're ready to take your company or blog to the next level.
UHH AND DUH, you want to see your face in your favorite magazine.
You after taking this crash course:
You'll have your breakthrough, people will come to you instead of you endlessly pitching and contacting others.

You'll give your first interviews.

You can add the 'As Seen In' graphic soon to your site.

You'll receive more and more requests over time from bloggers and journalists interested in your knowledge. They'll come to you!

You know how to reach new audiences